FMCSA Drug and Alcohol Program  Management
Advantage Drug Testing provides industry leading services:
Nationally recognized MRO, provides fast results reporting

Experience with over 2 million DOT tests per year

Government certified laboratories ensure accuracy and compliance
Policy development and review
Advanced systems and services
Training on-line and in-person for supervisors, employees and DER's
Largest clinic network and simplified billing
Mock audits and FMCSA training programs
Pre-employment testing
Random testing
Drug and Alcohol compliance with parts 40 and 382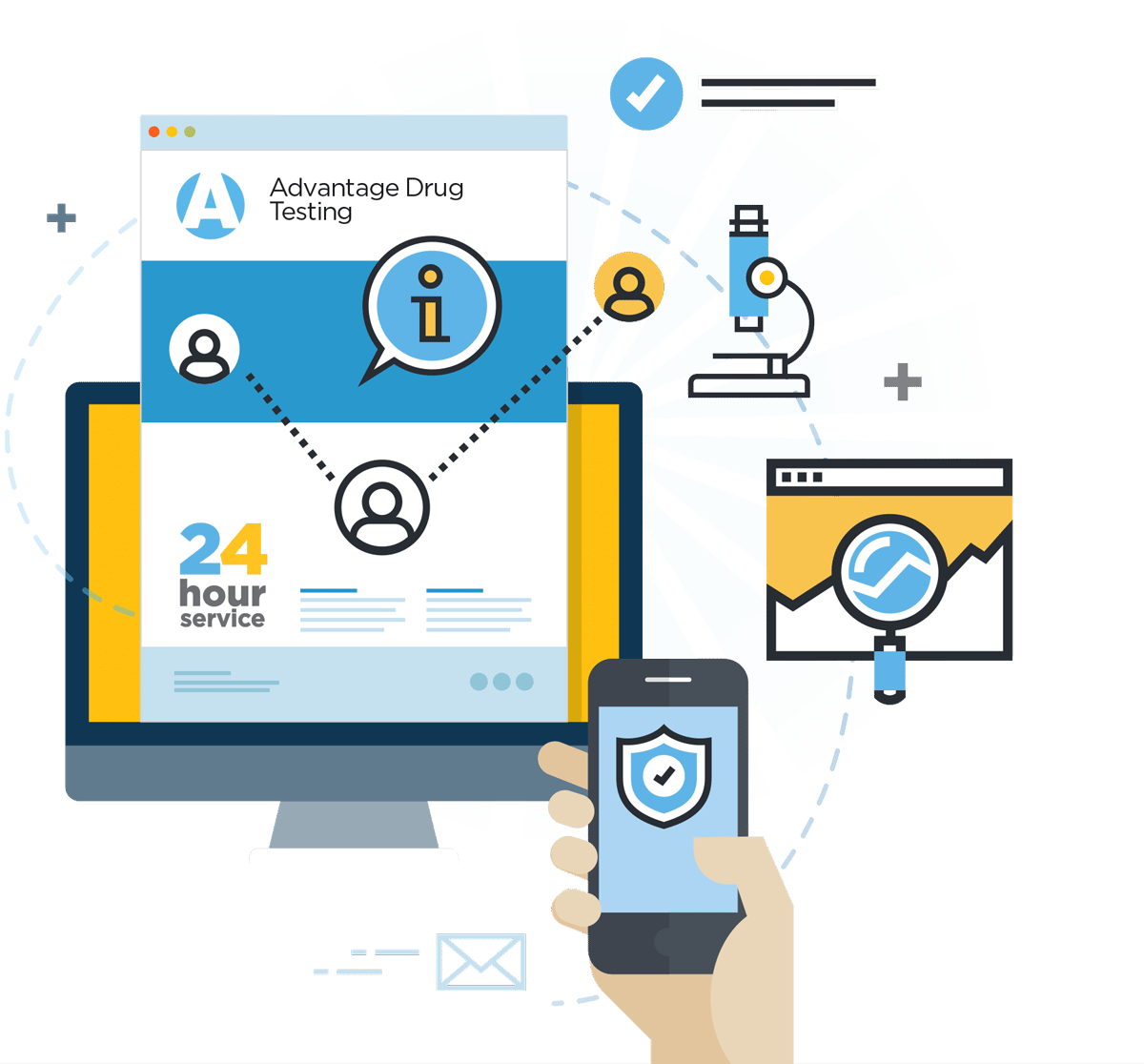 With regulatory guidance and complete solutions,
our team will improve compliance with FMCSA regulations
and provide advice when issues arise.
Nationally recognized MRO
Our MRO is a nationally recognized for experience handling millions of DOT drug tests every year. We have the experience to guide employers when difficult questions arise.
Government certified laboratories
Advantage Drug Testing works with all of the government certified laboratories to ensure that our clients get the fastest test reporting, access to the most clinics and the lowest total cost.
Policy development
Make sure the company drug-free workplace policy is up to date and includes all of the required DOT elements. Schedule a policy review with our team.
Advanced systems and services
Take Advantage Drug Testing of systems that simplify DOT program management and save time.
Random pool updates through our secure portal upload
Automatically matched and verified random tests
Monthly random status and compliance reports
Innovative portal allows users to quickly edit and correct name misspellings, "DOT agency", "reason for test " and other common errors
Print random selection letters for each donor
Schedule tests electronically with no paper CCF
Receive direct phone calls regarding non-negative test results
Training on-line and in-person
Schedule supervisor, employee and designated employer representative (DER) training in-person and online (self-paced, computer-based). Advantage Drug Testing makes regulated training and total compliance easier.
Largest clinic network
Advantage Drug Testing works with all clinics nationwide to ensure that clients have access to the most convenient testing locations. Clinics invoice Advantage Drug Testing for specimen collection and breath alcohol testing. Advantage Drug Testing provides one simple monthly bill for all services.
Mock audits
Review and verify the FMCSA regulated program to ensure compliance and avoid recordkeeping violations and out-of-service orders.
Pre-employment testing
Ensure that your safety-sensitive candidate is the best hire for your business.
Why is it done?
Improve safety
Reduce the number of accidents
Drug free employees cost an average of $7000 per year less than drug users.
(Workers compensation, medical costs, absenteeism/productivity, annual costs)
Critical first step toward a drug free workplace
Link to DOT Rules on Pre-Employment (382.301)
What is required?
Before the first time a driver performs a safety-sensitive function, the driver shall undergo testing for controlled substances. The DOT requires that a negative pre-employment test result has been received before an employee can perform safety sensitive duties.
What does a DOT test include?
Amphetamines, cocaine, marijuana, opiates, PCP, ecstasy
Random testing
Maintain a drug and alcohol free workplace. All regulated safety sensitive employees must be in a random testing program.
Why is it vital?
Ensures that the workplace is doing regular unannounced testing to deter the use of illegal drugs and the misuse of alcohol
How it's a deterrent factor?
Knowing a random test may be in the future encourages employees to avoid drugs and ensure that those who cannot avoid drugs and alcohol will be identified.
What are the random testing rates?
50% drug, 10% alcohol — These rates are the minimum. Many employers choose higher rates to reduce the risk of a drug or alcohol related incident.
How it works?
Best Practices for DOT Random Drug and Alcohol testing (Download pdf)
Random selection process: Employees are included in a pool called a consortium and the computer system selects people randomly.
Selected employees are told to go DIRECTLY for the Drug/Alcohol test.